Value Selling & Customer Relationship Management Service Skills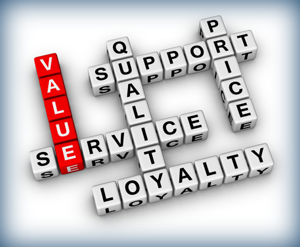 Course Overview
To Wow Customers & Increase Sales. The most challenging task in business is to keep your current customers and get them to buy more of your products and services again and again. Next. Is to go out and win new customers especially during tough and challenging times.
Starting with a revisit of the most profitable business strategy - selling value, this program helps you understand the strategies to anticipate and serve customers' needs. It will also help you to move ahead of your competition and emerge even stronger by differentiating with value selling.
Course Objectives
This one-day workshop is specially designed to help participants:
Understand & apply the Value- based & Consultative Selling Cycle for desired results
Increase confidence in handling difficult situations and winning customers
Delight & grow customers with creative CRM service techniques
Course Outline
Morning Session – CRM Service
Professional Ownership Towards Greater Customer & Job Satisfaction

Standing Out of The Crowd – Value Centric Self Management & Preparation
Overcoming Barriers For Better Personal & Business Results
How Our Thoughts Affects Our Actions In Serving Customers
Self Discovery & Mentality Exercise



Application of Value-Based Consultative Selling Cycle for Desired Results

Identifying Where To Look & Find The Right Customers
Identify & Matching Customers To Relevant Products Using Creative Scan Tools
Products & Prospect Mix & Matching



Identifying Customers' Needs & Expectations With Hi-Touch Probing Techniques

P.R.I.C.E. & M.I.D.A.S. Questioning Techniques
Knowing What Your Customers Really Want
Developing A Customer- Sensitive CRM Matrix
Afternoon Session
High Impact & Value Focused Presentations Techniques

Knowing Customer Expectation & Concerns
Leverage On Product Features, Advantages & Benefits
A.T.A. Method of Making Your Customer See The Benefits of Value
Techniques Of Overcoming Objections
Role Plays & Exercises



Developing Effective Communication Tools & Skills To Delight Customers

Art Of Effective Listening Skills To Delight Customers
How To Turn Objections Into Confirmation
Difficult Situations Recovery Techniques
Case Study & Exercise



Effective NLP Techniques To Autosuggest Customers to Next Positive Step

Customer-Centric Communication Tactics - The Application & Their Impact
Influencing & Helping In The Customers' Decision
How To Get Commitments
Exercise & Application Of Techniques



Creating Opportunities For More Business & Referrals

How to Keep & Grow Your Customers : Selling Through Serving Value
Techniques To Build Customer Relationship Through Service & Sales
Making CRM Promise Come True: USE S.S.S. Checklist
Locking In The Good Relationship ; The Customer- Centric Scan
Exercise & Application
Action Plan

My Key Learning Points
How Can I Make A Difference For The Better
My Commitment to Keep & Grow My Customers



Recap And Q & A Session
"People buy what products can do, NOT what they are."
Who Should Attend
This workshop is structured for those who are involved in selling functions and service role that requires direct contact with customers.
Program Duration
1 day