Project Team Leadership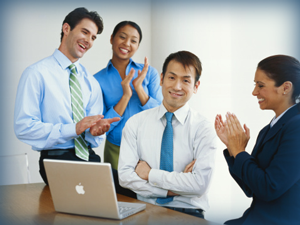 Course Overview
Create more successes through enhanced project leadership, communication and negotiation skills.
The demands of a project leadership role are unique. You must learn how to serve both the needs of your team members with the needs of the project—not an easy task. Project leadership requires a blend of soft skills, such as communication and motivation, along with the bottom-line capabilities of project management.
This workshop will teach you how to master the project leadership skills that can help you build team commitment and create a more predictable project environment.
Course Objectives
How You Will Benefit
Build high-performance teams that can lead projects to successful implementation
Keep the team on track through team consensus and conflict resolution
Minimize communication misunderstandings
Prevent team "break-ups" by using constructive feedback
Achieve better results through clear, open and honest communication
Optimize time, money and resources by putting the right people on the right projects
Course Outline
What You Will Cover
The ins and outs of communications skills
Team dynamics: what's unique about project teams
Conflict management…successful team behaviors
How to delegate and run effective meetings
Communicating during project implementation and closure: conveying appreciation…what to do when crisis hits…performance reporting
Negotiating agreements: a PM's sources of power
Achieving commitment and creating project successes
Training Methodology
Short lectures; work place case studies; role-plays; interactive negotiation games; self-evaluations; video-recording behavioral analysis and guided group discussion.
Who Should Attend
Managers & Program Executives who need to improve project management results.
Program Duration
2 days