Problem Solving Skills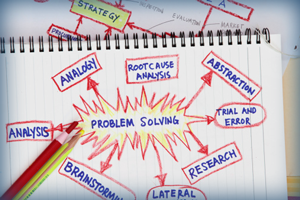 Course Overview
Some find it easy to solve tough problems with simple solutions while others find this feat nearly impossible. Many think that you need to have a creative mind, although it helps, to solve a problem. For an individual a systematic way of solving problem and by tapping into the knowledge of others (staff, colleagues, family, or friends), can expand the range of available solutions.
This module is designed to allow you to learn beyond just tools and techniques in solving workplace problems. Besides covering the identification of root causes to a problem, generating and evaluating alternative solutions, it also incorporates essential competencies (knowledge, skills and attitude) involved in making appropriate decisions and taking responsibility for the decisions made.
A six step problem solving skills methodology will form the basis of this program. Activities in this program carry both the learning and the fun elements
Course Objectives
This module aims to equip you with the requisite knowledge and application skills to:
Anticipate and Identify Problem
Recognise a problem area
Describe and assess the impact of a problem
Generate and Evaluate Alternative Solutions to a Problem
Generate and select ideas to solve a problem
Evaluate selected ideas for possible solutions to a problem
Making a Decision and Taking Responsibility for the decision
Indicate a preferred solution and devise a plan to implement the selected solution
Evaluate and take ownership of the implemented solution
Course Outline
Anticipating and identifying problems by recognizing early symptoms to a problem, scoping and analyzing the problem, identifying causes and considering further impact to the problem
Being proactive in generating and evaluating alternative solutions by thinking logically and creatively to a particular problem at hand with the ultimate aim of solving the problem
Training Methodology
Experiential methods of learning will be applied to enable participants to learn and practice the concepts and skills taught during the programme: Mini-lecture, Activities, Role Plays, Group Discussions, Exercises, Presentation, and Written Assessment.
Who Should Attend
Staff of all LEVELS
Program Duration
8 hours (1 day)