Effective Networking & Business Etiquette Skills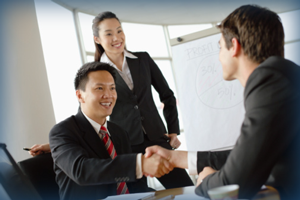 Course Overview
This course is specially designed to create awareness, and to impart important knowledge on the ideal business etiquette and networking strategies so as to enhance your image and professionalism. This highly interactive workshop is specially catered for organizations who want to enhance networking skills and create an excellent public image through proper business etiquette.
Course Objectives
•Learn to become an effective networker
Enhance your social and self business etiquette skills •
Find out what is your current networking level
Learn how to build your confidence and to communicate with poise •
Learn how to open, hold and close conversations •
Become aware of conversation killers •
Master business etiquette strategies such as card swapping and handshakes •
Learn techniques on how to remember names •
Understand cross-cultural networking considerations
Learn how to develop critical business etiquette to achieve excellent corporate image
Course Outline
1. Introduction to Networking
•
Identifying the purpose of networking
Networking as a tool for business, career and social development
Personal networking analysis
2. Making Conversations
•What to say and do when meeting for the first time?
How to continue and prolong a conversation; Hot topics for conversations
Closing a conversation; Conversation killers and taboo topics to avoid
3. Networking Strategies
Working the room; Handshakes and card-swapping skills
Remembering names; Understanding body language cues
Using humor and personality to your advantage
4. Cross Cultural Networking
Cross-cultural considerations
Networking with Chinese, Japanese, Americans/Europeans, other Asians
5. Self Business Etiquette Development
Determining your personal image audit
Professionalism in deportment and posture
Business and social communication; Appropriate body language at work
Meeting Etiquette, Phone Etiquette
6. Social Business Etiquette Competencies
Entertaining your clients
Business Dining etiquette
Dealing with different types of people
Respecting cross-cultural differences in business etiquette
Training Methodology
Short lecture, hands-on facilitation, practical exercises & simulations, self reflection and group critiques.
Who Should Attend
All new & mid level executives who need to improve business networking skills for better personal and corporate success.
Program Duration
1 day