Delivering Powerful & Persuasive Presentation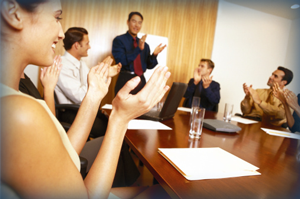 Course Overview
This is a hand-on high impact workshop to equip executives with effective presentation skills and practical step-by-step techniques to win confidence and desired business results.
Course Objectives
At the end of the course, the participants will be able to:-
Acquire and apply the techniques of making an engaging business presentation.
Learn and apply skills to structure their presentation style for desired results.
Increase their ability to present persuasively and to turn information in action.
Deliver powerful presentations that link appropriate emotions to key messages.
Course Outline
1. Presentation Effectiveness Assessment
A self scoring presentation effectiveness assessment to help you identify your strengths and challenges in delivering high impact and persuasive presentations.
2. Fundamentals of Business Presentations –
The key mechanics of a Business Presentation.
What works and what don't.
The importance of delivery skills.
Emotions vs Facts.
3. Planning Your Presentation & Audience Analysis.
Knowing your audience – their background, motivation & expectations, what they need to know, want to know and don't need to know.
How to generate ideas for a presentation. Specifying the purpose of your presentation. Establishing a theme or a angle for your presentation.
4. Planning Your Delivery Tactics and Strategies for getting onto a positive opening.
10 sure fire grabbers to capture your audience's attention.
Linking from opening to the theme of your presentation.
Creating the logic in the flow.
Building the emotional highs, and effective ending to the speech.
5. Setting The Stage Right - Survival checklist of :
Presentation essentials - from location, timing, seating arrangements to AV aids.
6. Putting the Sizzle into the Sell
Understanding Persuasion - Facts and Myths about Persuasion.
The key to Effective Persuasion : Art of managing expectations and perception.
Getting from Perception to Decision.
Getting audience from Decision to Action.
7. The 3 V's of Presentation
Developing a positive posture, effective gestures.
Polishing your vocal, tone of voice and choice of words.
8. Handling the Q&A

To have or not have a Q&A.
Managing Tough moments: silence, loaded questions, emotional outbursts, & objections.
9. Presenting to an International Audience
10 Things to watch out for when presenting to an International Audience: from accent, to anecdotes, to cultural sensitivity, etc.
10. Personal Action Plan
Developing a personal action plan towards being a powerful & persuasive presenter.
Training Methodology
Mini Lectures, Games & Simulations, Group Interaction & Discussions. Individual Critique & Feedback.
Who Should Attend
All managers and executives who need to present effectively for successful results.
Program Duration
2 days